I got nominated for an award in Japan
It's the GAIMAN award (GAIjin MANga) and as the name suggests, it's a best foreign Manga award.

I'm up against a lot of South Korean artists and then Neil Gaiman and Alan Moore. Yep. So I'm boned, unless part of the judging involves a live draw-off or a freestyle rap battle. Even then, Alan Moore might be a hot favourite. Still, though! It is the first award I've ever been nominated for! So that's a big deal for me.

Reader! You don't have to go to Japan to buy this book!  It's coming out in English THIS WEDNESDAY. If your local comic shop is cool they might have ordered some copies in. If not, I guess you can ask them to! 



There it is above, in a picture I stole from the Orbital blog. I think it's the biggest (as in, size) comic that Image have ever put out. I mentioned it before, but I'm doing a signing at Gosh! Comics on saturday (october 4th). Then in the evening there's a launch party for Bartkira volume two. BUSY.

(As for the next thing I'm doing for Image, I'm learning not to talk about stuff I'm working on until it's about to come out, so I'll keep it under my hat for now. But man, I'm excited.) 
Take heed!
People without easy access to a local and reliable comic shop have been asking me where they can buy my new book, so dig this: You can now buy the huge 18" tall english language version of Masterplasty in my store.



Only £10 including shipping! Click

I added the option to buy multiple copies in case you wanted one to keep and one to wallpaper your house with, or something like that. Here's a photograph showing exactly how big these suckers are. My foot is there for scale. Then the K'Nex Toad figurine is there so you can get a sense of the scale of my foot (it is the size of an adult man's foot).


makimakimaaa asked

:

Your art (especially for Consentacle) reminds me a lot of Asano Inio. If you don't know of this artist, you should definitely check him out! His story "Solanin" is a fantastic exploration of depression, truly.

-Oh wow! Thanks a lot. That's really flattering. A few people have told me that Inio's Oyasumi Punpun is one of the most exciting things to happen in comics in recent years but I haven't gotten round to reading it. I really should. 
theywalkamongus asked

:

Dood! Your art is spectacular and an inspiration. What are some movies, music, and artists that are getting you stoked lately? P.S: PLEASE DRAW MORE TANK GIRL.


-Hey! 

This is a long response. Get ready. I say a lot.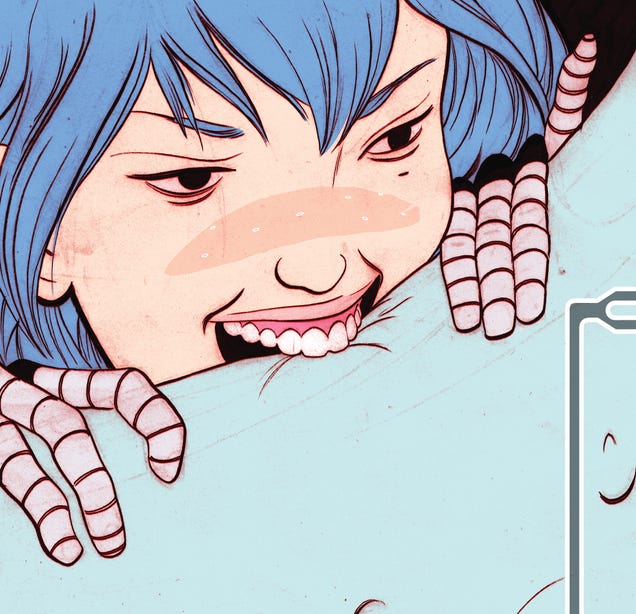 The dirtiest thing I've ever done on a table happened last Friday. I played a game about helping a human and tentacled alien get each other off.
Our game Consentacle got a big and generous writeup on Kotaku today. Thanks, Evan!

(Again, if you want to buy this, your best bet might be to just tweet at Naomi and beg her)